Stile Napoletano at
49 Watergate Street
Stile Napoletano at
49 Watergate Street
Located under the famous Chester Rows on Watergate Street, Stile Napoletano at 49 Watergate Street is the second venue of award-winning pizza chef Giacomo Guido.
Giacomo left his home on the island of Ischia, near Naples and moved to London where he was nominated for the best pizza in London in 2015 (youngandfoodish.com) and his pizza was included in Daniel Young's 'Where to Eat Pizza' in 2016. 2017 brought more success when Giacomo won the London Pizza Festival.
After visiting Chester, Giacomo fell in love with the city and decided to leave his successful career in London behind. Stile Napoletano was opened in March 2018 where he serves tasty and light Neapolitan style pizzas using pure, organic ingredients from Italy alongside quality local produce.
Monday: 
Tuesday:
Wednesday: 
Thursday:
Friday:
Saturday:
Sunday:
5pm – 10pm
CLOSED
5pm – 10pm
5pm – 10pm
5pm – 10.30pm
12pm – 10.30pm
12pm – 9pm
Monday: 5pm – 10pm
Tuesday: CLOSED
Wednesday: 5pm – 10pm
Thursday: 5pm – 10pm
Friday: 5pm – 10.30pm
Saturday: 12pm – 10.30pm
Sunday: 12pm – 9pm
Pizza Restaurant of the Year 2023
Following on from our Highly Commended recognition in 2022, we're very proud to be awarded Pizza Restaurant of the Year at The Food Awards England 2023. These awards recognise the best talents from across the English culinary scene.
We are so proud that our pizzeria has entered the guide of best pizzerias in Europe for @50toppizza, in the "Excellent Pizzerias" category. It is a great honour for us to be part of this prestigious guide from the home country of pizza, and includes the pizzerias from all over the world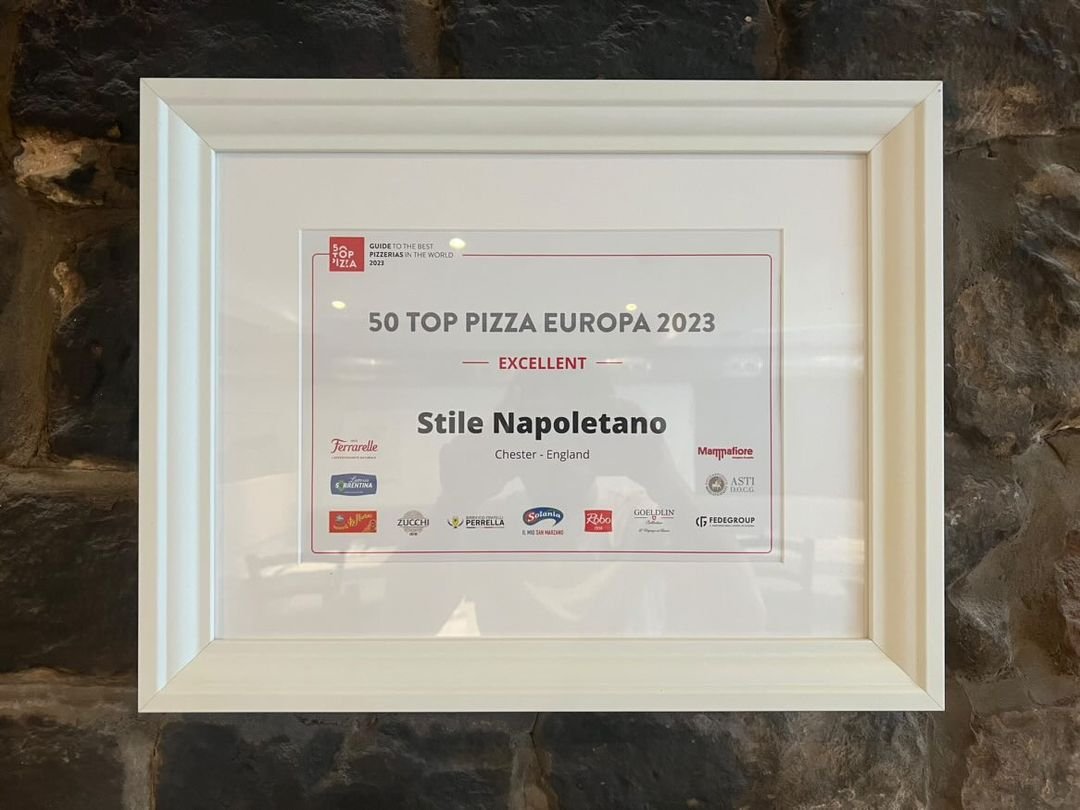 In June 2022 we were nominated as a finalist in the Food Awards England, within the Pizzeria Restaurant of the Year category – the only restaurant in the north west to be nominated for this award.
Although we didn't win, we're proud to have received a 'highly commended' certificate.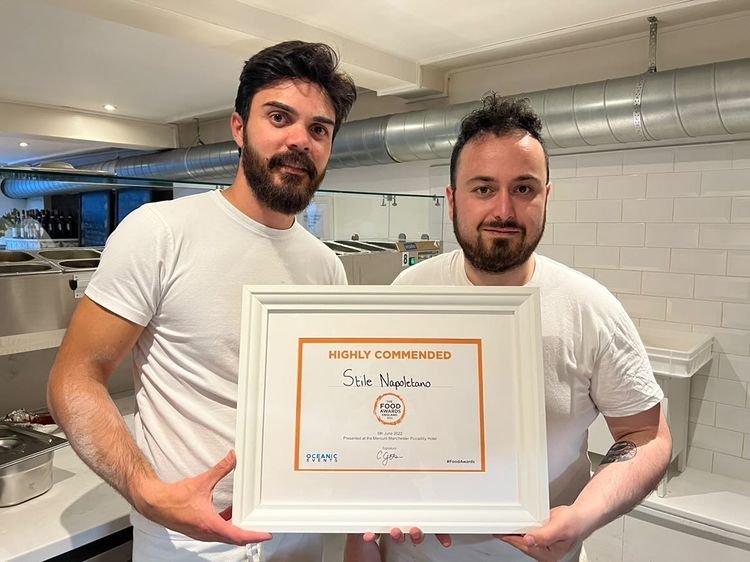 Tripadvisor Travellers' Choice 2020-2022
We have received the annual Tripadvisor Travellers' Choice award for 2020, 2021 and 2022.
The Travellers' Choice Award is Tripadvisor's highest award and is based on reviews and opinions from travellers from around the world and recognises establishments with, among other things, the very best service, quality and customer satisfaction in a range of categories.
Find out what our customers have to say about us in the link below.
In the August 2019 edition of  Olive magazine we were proudly included in their article reviewing the UK's best pizza restaurants.
Find out why Olive magazine rated us among the UK's best pizza restaurants.
5pm – 10pm
CLOSED
5pm – 10pm
5pm – 10pm
5pm – 10.30pm
12pm – 10.30pm
12pm – 9pm